A few recent case studies we are very excited to share.

Case Study-Mid City: A home was listed for 3 months and received no offers. With a small amount of work and staging, the home was relisted at the same price and sold in multiple offers for $100,000 over the list price.

Case Study-West Adams: A home had been in the same family for 60 years. We coordinated the repairs for 6 months. The home was in need of a cosmetic facelift. Together with Compass Concierge and our team of repair people, we were able to stage and prepare the home for listing with a budget of just $25,000. Listed for $999,000, it sold in multiple offers for over $300,000 above the listing price for $1,300,000. That's over 33% over the list price!

A little bit about Compass Concierge…

Compass Concierge provides sellers access to interest-free capital to front the costs of home improvement services like painting, deep cleaning, staging, and more. The program has helped thousands of sellers nationwide since its launch, and the results speak for themselves. For example, looking at our most recent data:
80% of Concierge listings that listed in March 2021 sold within 3 months of listing, versus 61% for MLS listings in Compass markets.
Concierge listings sold for 11% above their ask price in June 2021, versus 3% above for MLS listings in Compass markets.
Compass Concierge listings have consistently outperformed their Compass peers as well as the general MLS, regardless of broader market conditions. Check out the trendlines in terms of a price premium over asking (and you can click here to see a larger version of the chart, looking back 2 years):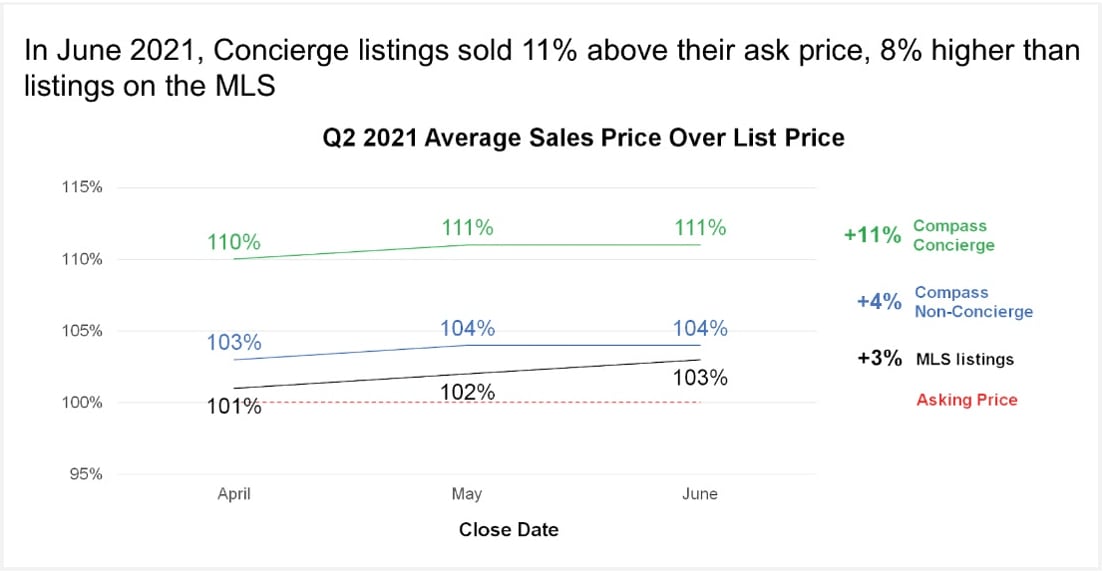 The numbers in this chart represent the price over the sale price. So for the Compass Concierge listings, for example, that's 11% higher sales price vs. list price.
With Compass Concierge we can help you sell your home faster and for a higher price. With a no-fee and no-interest loan, selling your home becomes hassle-free!
On a very private note, what I love is rather than selling your home to an investor and then seeing it sold on a real fix and flip show for $500,000 more than you sold it for, why not take that additional profit for yourself? Compass gives you access to funds to make your house shine like a flip and sell for more.